Welcome to The WIDGET Source Inc
Need quality products to carry your logo and message?
Want to quickly check to see what's new?
Trying to establish a budget?
We can help! And we've made it easier than ever to find what you're looking for.
Along the left edge are special searches that will take you to a page of ideas that fit a theme or topic, reveal what's new in the widget world, or highlight some great pieces.
Need a special item or already have something in mind? Try entering a few keywords in the Quick Search box.
Want more control over your search results? Click on the Search menu to refine things even further.
Can't find what you want, got questions or perhaps just feel completely overwhelmed by the options? Contact us by phone (608.233.1763 x230) or email (info@thewidgetsource.com). We'll be happy to listen to your needs and create some suggestions for your particular situation.
SYMBOL is defined as "an object having cultural significance and the capacity to excite or objectify a response". Similarly, a WIDGET is "a carefully selected object intended to get your message out, noticed, understood, remembered, and acted upon." If a picture is worth a thousand words, imagine the value of a 3-dimensional object!
Since 1983, we have helped clients find widgets to deliver their corporate messages to employees, customers, vendors, investors, etc. To us, "When it Matters" is more than just a slogan. It is the very core of our company. Throughout the website, we've got examples and suggestions of ways to make smart use of your promotional dollars.
So if it is important to you to:
match your message to your mission
find innovative ways to promote yourself
discover new ways to get results
Then you need The WIDGET Source to help you to get that message across. Whether you need thousands of giveaways for a tradeshow, hundreds of ways to thank your employees, or just one very special memento, you'll find what you need at The WIDGET Source. Contact us today.
Featured Item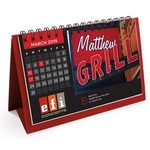 Flip Calendar w/Name Personalization (Sh...
This calendar includes a standard cover with a large logo area and recipient's name, full color logo imprint area on every page, you can highlight special dates, each month will include a personalized...
$5.04 - $6.84